Fuel Growth with an Effective Plan for Social Media Strategy
And that's where our creative minds come together to give your company an effective social media strategy that works.
Our Social Media Strategy Process
Strategy Kickoff Call
The Strategy Kickoff Call is an exciting opportunity for us to get to know your team and learn about the goals that drive your business. During this call, we'll ask a lot of questions like "What are your key buyer personas?" and establish benchmarks for future success. This is also when we will gain access to your social accounts and online assets.
It's a great way to kick off the social media strategy process! In our first meeting, your account manager will provide a realistic goal to track and the foundation of your successful marketing strategy on social media.
Brand Audit
We conduct a thorough examination of your social media presence to gain insight into your audience, identify areas that need improvement, discover what content resonates, and gauge overall sentiment towards your brand.
This step is crucial as it helps us identify the right channel and unique opportunities for expanding your social media success.
Strategy Creation
We will keep the conversation going about strategy for your business and social media presence. We will put certain things in place, such as a content strategy, while making sure we stay aligned with your goals.
This is the stage of your campaign where everything starts to come together.
Strategy Plan Presentation
In our final presentation, we will unveil the strategic plan for moving forward and show you how it will be executed. We will review the strategy, finalize the scope of your content, and make any necessary adjustments.
This is the moment where you will start to see your brand grow through our expert guidance in creative social media!
We start your social media campaign by analyzing your audience broadly, then narrowing down to specific categories. We begin by distinguishing between those who buy for themselves and those who buy for others, and then we further segment based on factors such as location, job title, income level, etc.
This will give you a detailed and accurate understanding of the types of people that are drawn to your brand and their preferences for content on each platform.
As a team, our greatest goal is to give you the social media services you've been looking for, starting with a thorough buyer persona exercise that will give you the information you need to help your business start to succeed online.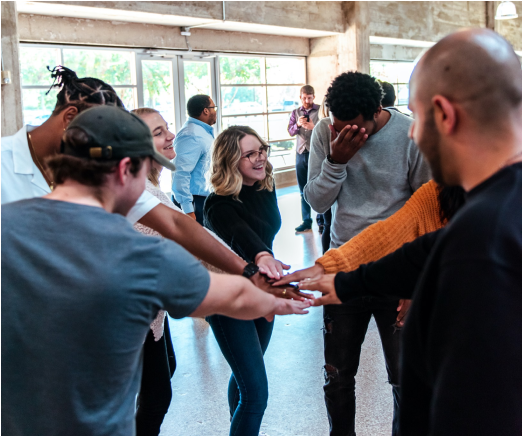 As a company, we're constantly striving to bring the best of the best to our clients. Your success as a business becomes OUR SUCCESS as we strive to achieve perfection within the realm of social media marketing strategy.
We believe your company can do amazing things online, and we can't wait to show you what you're capable of – and it all starts with a social media strategy perfectly tailored to your brand.
In the ever-changing world of social media, we've gathered a team of top-notch experts to keep us ahead of the game.
Our team has a range of strengths across different social platforms, so you can trust us to deliver results.
Whether it's killer graphics or spot-on captions for Instagram, we won't stop until your social media strategy is delivering the results you want.
Frequently Asked
Questions
We will complete a competitor audit, develop a content strategy and engagement plan, set goals, choose the right platforms – and so much more.
This is a crucial stage because what you're hoping to accomplish and achieve will determine the social media marketing strategy.
No two strategies are alike and that's a good thing!
Typically, around one month for all the necessary steps. We provide a highly-robust plan that covers all portions of the strategy.
For brands looking to move quickly, we have a condensed 2-week strategy – typically a good fit if you have an existing strategy in place.
The social media marketing strategy build period begins on the day of your Strategy Kickoff Call.
Typically one month, but it can be expedited. Occasionally 2-3 weeks, but no less than two weeks.
Three one-hour meetings with the Sociallyin team will be mandatory during this period.
We've found it's required to keep us all on track as partners in your success.
During the strategy, we create a custom plan for your social media. We also have a general idea of how many posts and what type of content you should be putting out before the presentation.
Once we agree on a scope, then posting can start.
We'll product 'thumb-stopping content' for your social media profiles and help you grow followers on the platforms that matter the most to your business.
At this point, you know we focus on everything related to social media.
We can help with all different types, from management to social paid ads strategy, content direction to overall social strategy, and more.
Absolutely! We have over 100 case studies and counting at the time of writing. Sociallyin partners with customers in many different industries. Chances are, we have multiple case studies on companies that are going after the same target audience as you.
With our experience, we can create a tailored strategy that works for your business.
Let's get started on that strategy today!
From there, we'll be all set to move forward with content creation and posting.
Whatever your social media goals are, Sociallyin is THE agency known to deliver outstanding results on social.